The Mission Ballroom
4242 Wynkoop St.
Denver, CO 80216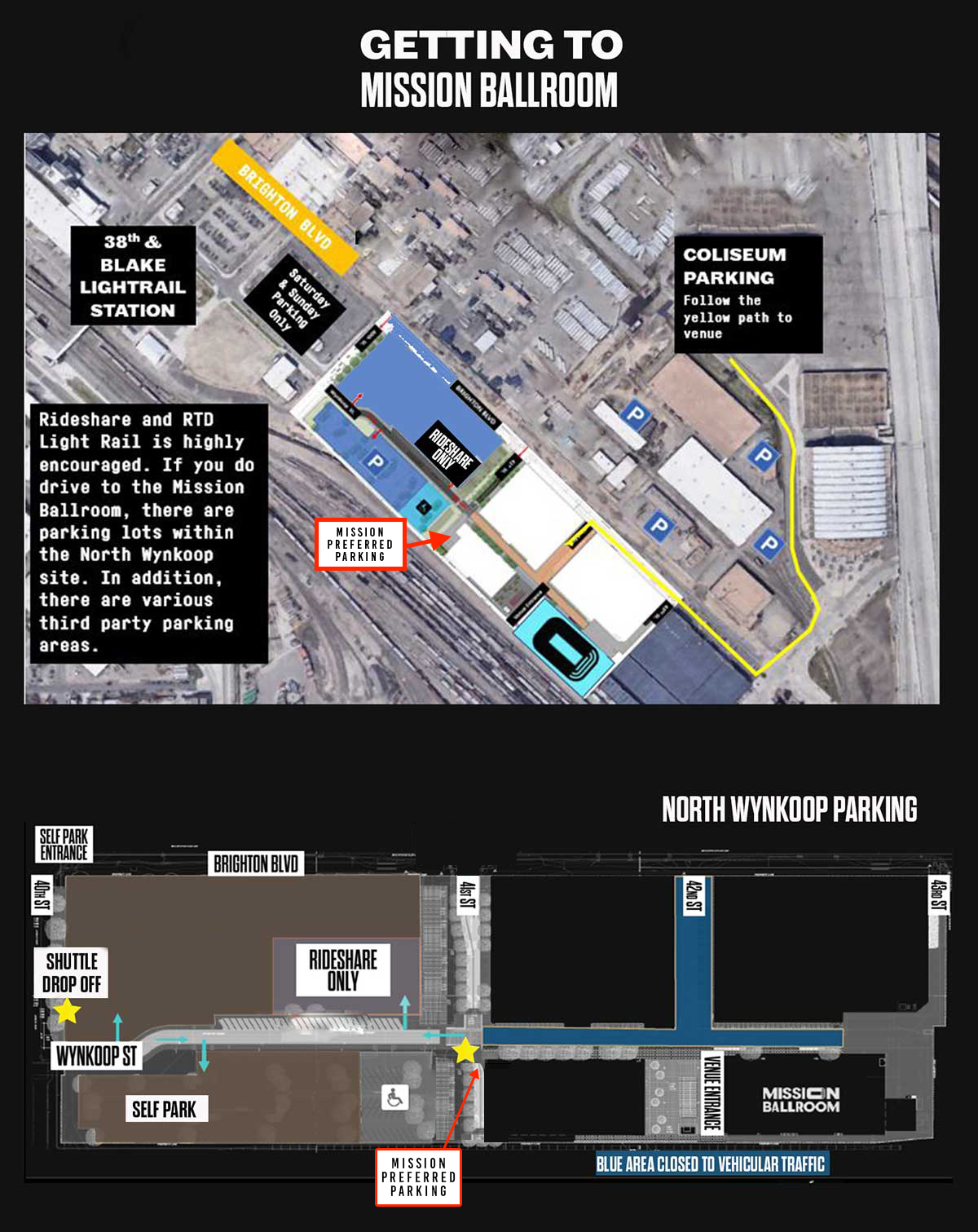 Public Transportation
Mission Ballroom is located just blocks from the Lightrail Station at 38th & Blake. The A Line schedule can be viewed here.
Lyft
See it live without the drive
We're excited to share that Lyft is the official rideshare partner of the Mission Ballroom and the easiest way to and from your favorite concerts.
Getting there
Open your Lyft app, enter 'the Mission Ballroom', and request your ride. Your driver will drop you off in front of the venue.
Heading out
After the show, open the app, follow the signage to the rideshare pickup point, and request a ride. Before you know it, you'll be on the road and onto wherever the night takes you next.
New rider? Get $5 off your first 2 rides with code: MISSIONBALLROOM. Terms and Conditions apply.
Parking
The Denver Coliseum is happy to offer paid parking for all Mission Ballroom events.
North Wynkoop offers paid parking on site as well notated in the map below. Please note these lots are not overnight parking, so you will need to grab your car after the show to avoid tickets and/or towing.
Mission Ballroom has partnered with The Source and Zeppelin Station to offer a great way to get to RiNo and party before and after the show. Reserve $5 parking and take advantage of food and drink offerings at The Source and Zeppelin Station market halls that house a total of 20 fun and unique food and bar concepts, then jump on a Lyft ride to Mission Ballroom's doorstep and back.
Park : $5 Parking Provided by Parkwell
Reserve parking in advance at either Zeppelin Station or The Source. Both garages are covered and secured providing you a safe place to leave your car while you enjoy the night.Scan your email confirmation as you enter either garage – pass is good for up to 12 hours.
Eat + Drink : Discounts on concert nights
Zeppelin Station and The Source market halls provide 20 unique food and bar concepts. Take advantage of some of Denver's best dining and nightlife before and after the show.
Lyft Ride: $5 Lyft Coupon
When you pre-book parking with us, you will receive a $5 coupon code for your Lyft ride to or from Mission Ballroom. Coupons can be redeemed only for the night of your show and rides must originate or terminate at the participating venues.
​Ride Share
We're excited to share that Lyft is the official rideshare partner of Mission Ballroom. When you don't want to deal with parking, the fastest way to Mission Ballroom is in a Lyft. Catch your ride after the show in the ridesharing lot located at the corner of 41st & Wynkoop.