The Mission Ballroom
4242 Wynkoop St.
Denver, CO 80216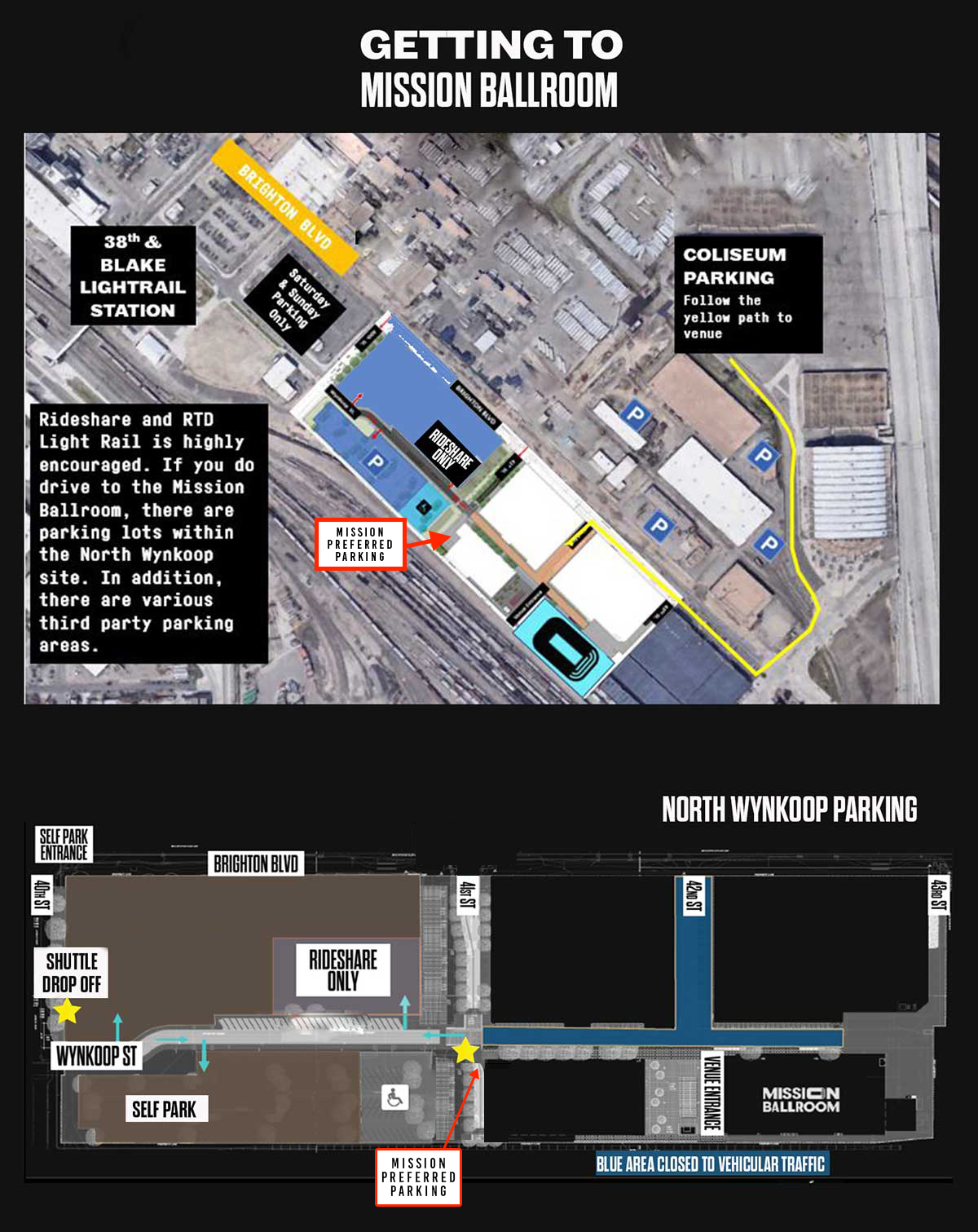 Public Transportation
Mission Ballroom is located just blocks from the Lightrail Station at 38th & Blake. The A Line schedule can be viewed here.
Lyft
See it live without the drive
We're excited to share that Lyft is the official rideshare partner of the Mission Ballroom and the easiest way to and from your favorite concerts.
Getting there
Open your Lyft app, enter 'the Mission Ballroom', and request your ride. Your driver will drop you off in front of the venue.
Heading out
After the show, open the app, follow the signage to the rideshare pickup point, and request a ride. Before you know it, you'll be on the road and onto wherever the night takes you next.
New rider? Get $5 off your first 2 rides with code: MISSIONBALLROOM. Terms and Conditions apply.
Parking
The Denver Coliseum is happy to offer paid parking for all Mission Ballroom events. Paid parking includes a free shuttle ride to the venue. Coliseum pick up and drop off is located at the corner of 40th and Brighton.
North Wynkoop offers paid parking on site as well notated in the map below. Please note these lots are not overnight parking, so you will need to grab your car after the show to avoid tickets and/or towing.
Concert goers can pre-purchase a $5 parking pass at https://www.goparkwell.com/mb for The Source or Zeppelin Station. Once parked, attendees can utilize the designated e-shuttle pick up locations at each property for complimentary transportation to and from the venue from 5 p.m. to midnight on a first come, first ride basis. Together the two market halls house 20 different food and bar concepts for pre and post concert festivities.
​Ride Share
We're excited to share that Lyft is the official rideshare partner of Mission Ballroom. When you don't want to deal with parking, the fastest way to Mission Ballroom is in a Lyft. Catch your ride after the show in the ridesharing lot located at the corner of 41st & Wynkoop.