THE MISSION BALLROOM FAQ
Flash Mobile Delivery uses the AXS app – no paper tickets required – and they make getting in easier than ever. For many events, you can also transfer tickets to friends and sell tickets you can't use. It's all a breeze.
Follow these simple steps to use your tickets:
Open the app and sign in to see your tickets.
Show the tickets in the app at the entrance and get them scanned to enter.
Have fun!
If you're going with a group, make sure everyone in your ticketed party enters together. If you're unable to enter together, manage your tickets through the AXS app and transfer tickets prior to entering the event. It's that simple!
Weapons of any kind, including but not limited to:

Firearms (with or without permit)
Pocketknives, multi-tools, or knives of any size
Pepper Spray or Mace

Flares or Fireworks
Oversized bags (Bag larger than 14" x 14", including all backpacks, briefcases, luggage, or duffle bags)
Illegal Substances
Outside Food and Beverage
Laser Pointers / flashlights greater than 3"
Professional cameras (anything with a detachable lens) or flash photography, tripods, monopods, selfie-sticks, or GoPros
Audio or Video recording devices
Signs larger than 11" x 17" or any sign attached to a stick or pole
Full facial coverings such as masks
Balloons, permanent markers, spray paint, silly string
Noisemaking devices (e.g. Air Horns, drums, whistles)
Large or pointed umbrellas
Hula Hoops
Pets, other than service animals; not to include comfort animals
How it works:
Request up to 4 tickets anytime while the Mission Fair Ticketing request window is open. You'll be required to pay a $1.00 deposit per ticket requested. If randomly selected, the deposit will be applied to your order and your credit card will be automatically charged the remaining amount. If you're not randomly selected, the deposit will be refunded within 14 days. Each event's information detail will include a date of notification, and we will alert you if you have been selected or not, on or before that given date.
Things to know: Tickets are not guaranteed. Your request will be canceled if your credit card is declined. If you submit more than one request per show, all requests will be canceled. No refunds or exchanges.
Missed the registration period? Check back as tickets may become available at a later date.
For information regarding a specific show, please reference the event page at AXS.com.
Below are a few reasons or suggestions to help you with your search:
No performances are currently scheduled for the Mission Ballroom, date, or artist you may have selected.
Mission Ballroom will only list an event after all information is confirmed with artist management. Events are always listed in time to purchase tickets the day they are put on sale.
Check the proper spelling of the artist or band. All words must be spelled correctly.
Make sure there is spacing between your words (i.e. John Hiatt, not johnhiatt).
The event may not be officially promoted by Mission Ballroom or AEG Presents. You may want to try finding the event on the band's official website or AXS.com.
Absolutely. Tickets purchased in person at the box office will be the cheapest option. There is only a $2.50 per ticket box office fee. The Mission Ballroom Box Office opens 1 hour prior to doors on show days, and is additionally open on Monday - Saturday from 10am – 6pm.
We sell accessible seating via axs.com and at the Box Office, which is open on event days 1 hour prior to doors and on Saturdays from 10am-2pm.
These seats are available to any party that has someone requiring accessible seating, and the ticket limit for these seats is the same as the limit set for the general public.
The Mission Ballroom is configured to hold general admission or partially reserved seating, depending on the event. There is limited reserved seating available for each show on the East Reserved and West Reserved Balconies. You can confirm the floor plan for your event after clicking on the Buy Tickets link for your event.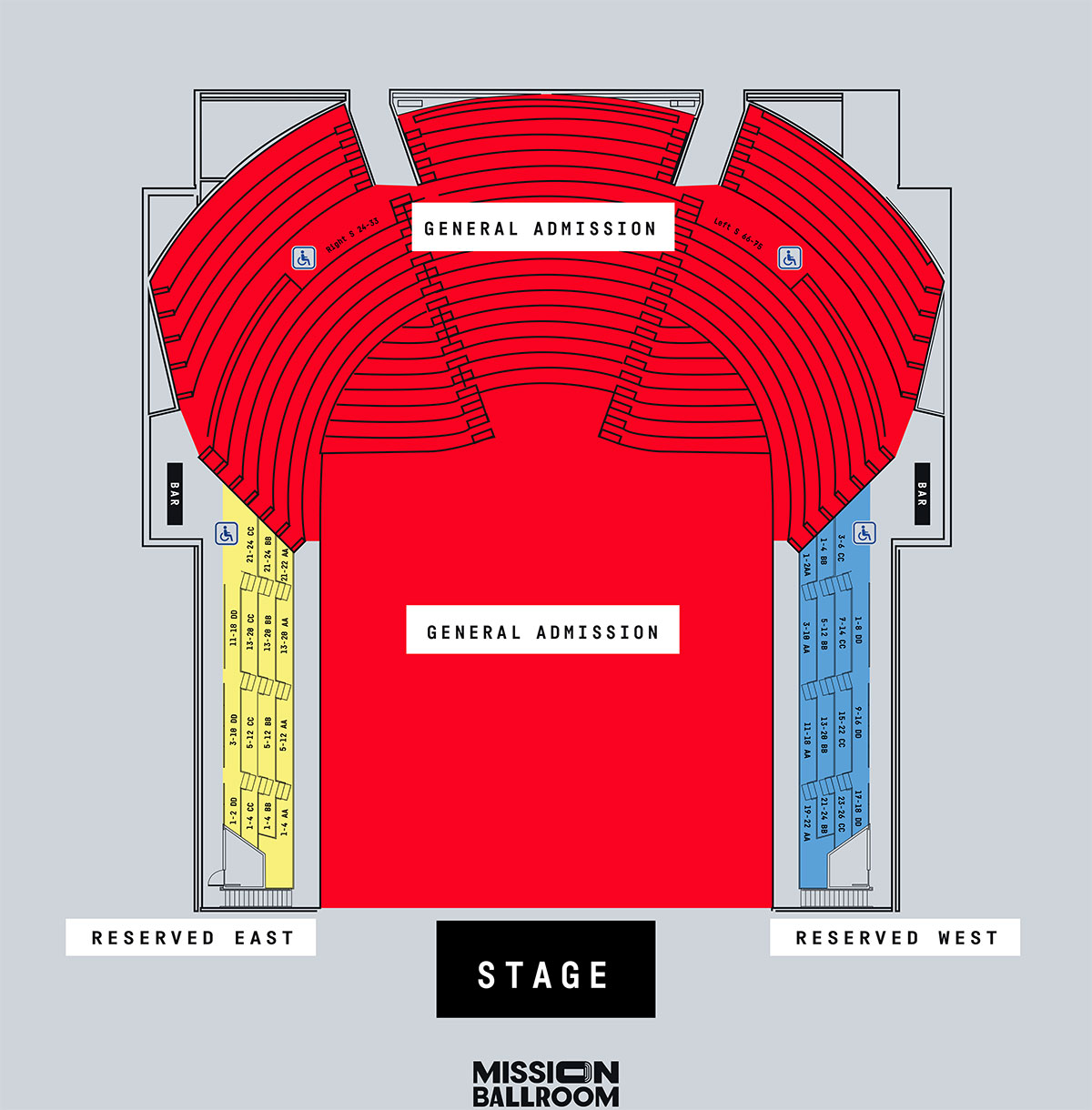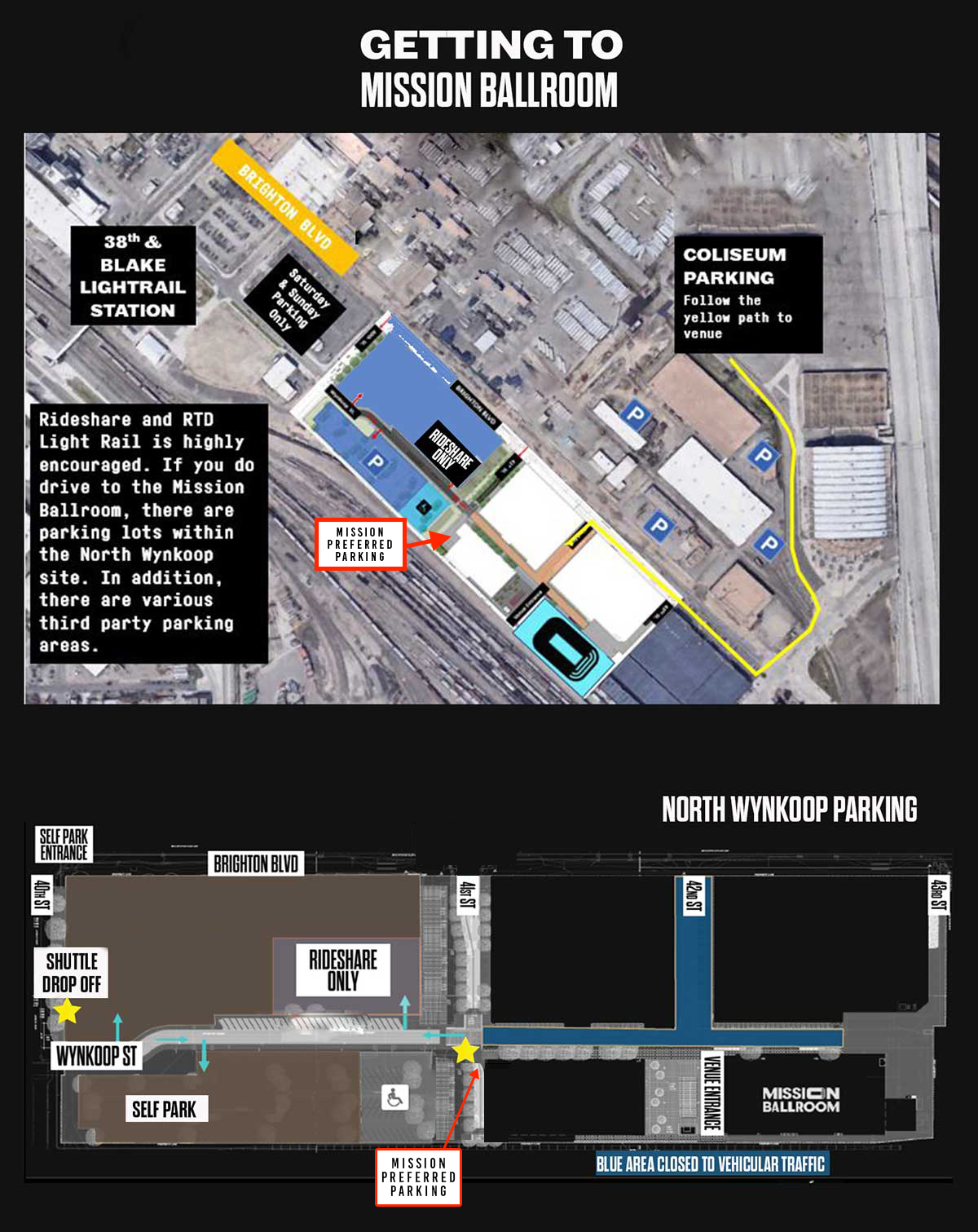 We strongly recommend ridesharing or using the lightrail:
We're excited to share that Lyft is the official rideshare partner of Mission Ballroom. When you don't want to deal with parking, the fastest way to Mission Ballroom is in a Lyft. Catch your ride after the show in the ridesharing lot located at the corner of 41st & Wynkoop.
Mission Ballroom is located just blocks from the Lightrail Station at 38th & Blake. The A Line schedule can be viewed here.
For those that need to drive:
The Denver Coliseum is happy to offer paid parking for all Mission Ballroom events.
North Wynkoop offers paid parking on site as well notated in the attached map. Please note these lots are not overnight parking, so you will need to grab your car after the show to avoid tickets and/or towing.
All dates and times are local.
Mission Ballroom only accepts resumes submitted through our
corporate website
. A current listing of available job openings can be found on
this page
.
Only the artist record company, artist management or artist fan club grant backstage access or meet n' greet opportunities. Not all shows will have a contest to win the opportunity to meet the band.
Please call AXS, not the Mission Ballroom, if you any of these issues within 3 days prior to the event. They have information to track your order and will recommend a solution. You can find directions on how to reach customer service at AXS here.
For tickets purchased through artist fan clubs or other organizations, you should contact that organization directly for information.
For Flash Mobile Delivery, please make sure to download the AXS app (iOS or Android).
All refunds are available at your point of purchase. If you purchased your tickets though AXS, please contact them to receive a refund or exchange for a postponed or cancelled event. Instructions for AXS regarding postponed and cancelled events are
here
.
​
The Mission Ballroom Box Office opens 1 hour prior to doors on show days, and is additionally open on Monday - Saturday from 10am – 6pm.
​Will Call at The Mission Ballroom box office is open on event days 1 hour prior to doors.
Yes, if accompanied by a parent or guardian. Our age restriction is 10.
| YOUR AGE | SHOW IS ALL AGES | SHOW IS 16+ | 18+ | 21+ |
| --- | --- | --- | --- | --- |
| 0-10 | YES - with parent/legal guardian | YES - with parent/legal guardian | NO | NO |
| 11-15 | YES | YES - with ticketed adult | NO | NO |
| 16-17 | YES | YES | NO | NO |
| 18-20 | YES | YES | YES | NO |
| 21+ | YES | YES | YES | YES |
Service animals are allowed. We do not allow pets.
• A current, government issued ID (e.g. driver's license, passport, military ID) • A copy of your birth certificate, driver's permit, combined with a photo ID (e.g. school ID, gym membership)
The Mission Ballroom is unable to verify or guarantee the authenticity of tickets that were not purchased directly through an authorized sales channel (i.e. The Mission Ballroom box office or AXS.com). For this reason, we do not recommend purchasing tickets from third-party resellers. If a ticket is purchased through a third-party reseller, the Mission Ballroom is not responsible for any fraudulent activity and will not honor invalid tickets. Didn't find the answer you were looking for? Just ask us here.